Dining
Restaurants in North Vancouver
Stay with us and we promise: You won't go hungry! Holiday Inn & Suites North Vancouver is home to some of the area's best pubs, including the intimate Churchill's Lounge and the lively Seymour's Pub. Families are now welcome in the Seymour's Pub from 11am to 9pm daily. The Pantry Restaurant is a family-style casual restaurant open daily. Just a few minutes from downtown Vancouver, our hotel also offers easy access to many of Vancouver's top restaurants, as well as other great restaurants in North Van and the North Shore.
The Pantry Restaurant
Specializing in the art of brunch, The Pantry Restaurant onsite at our hotel offers an impressive selection of freshly prepared breakfast, lunch and dinner menu items, including a 25-item Sunday breakfast Brunch Buffet. The family-friendly eatery offers comfortable patio seating and is open from 7 a.m. to 9 p.m. daily, with breakfast served until 2 p.m.
Churchill's Lounge
This intimate lounge space offers one of the largest selections of spirits in North Vancouver, making it a great place for good conversation and a delicious cocktail, spirit or beverage, including specialty coffees. Churchill's Lounge & Coffee Bar features a heated outdoor patio that looks out onto the hotel gardens. The lounge is open from 4 p.m. to 1 a.m. Monday to Saturday, and 5 p.m. to midnight on Sundays.
"Effective Sunday, September 25th, Churchill's Lounge will be shutting down daily operations until further notice. We apologise for any inconvenience this may cause our valued guests. Thank you for your patience and understanding.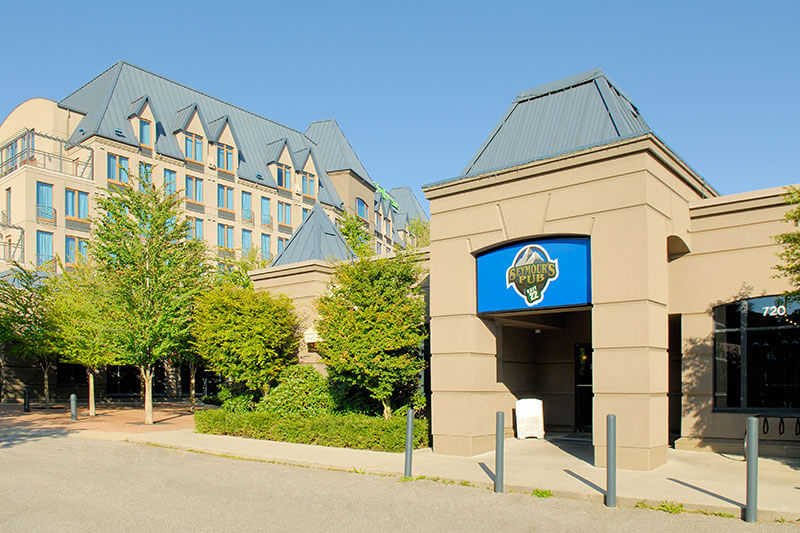 Seymour's Pub
For great food, fun drinks and awesome people all day long, head to Seymour's Pub featuring live sports action, pool games, a heated patio, a creative daily menu and an inspiring drink list. Families and children (accompanied with adults) are welcome from 11a.m to 9 p.m daily. In the evening, the casual dining room transforms into a late-night high energy bar with a live DJ, entertainment and dance floor. Seymour's Pub is open Monday to Friday from 11 a.m. to midnight, and Saturday/Sunday from 11 a.m. to 1 a.m. Adjacent to Seymour's Pub is a Beer & Wine store open daily from 11 a.m.